Show Taxi
Various Venues
Please refer to event details, Hong Kong
The Week Music Festival
See Hong Kong Differently. See Hong Kong Musically.
More Details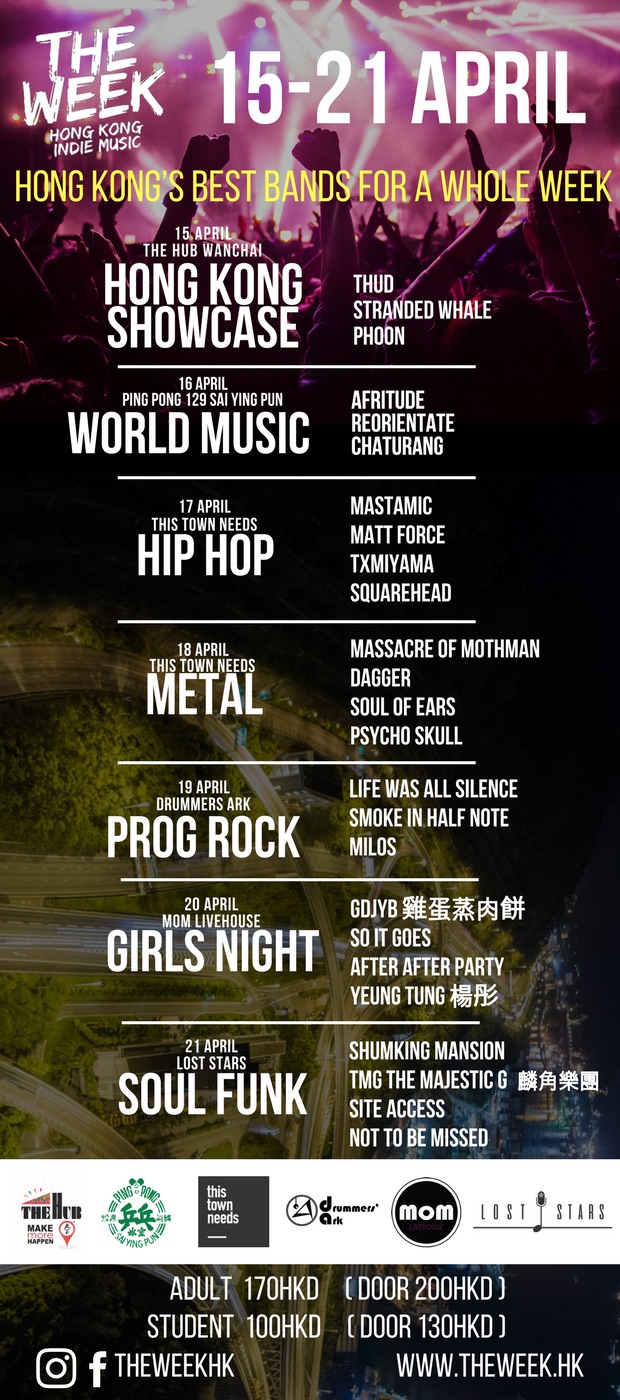 7 days of concerts in 7 different venues across the city with 7 unique line-ups of 25 acts to support and promote local musicians, The Week is designed to let you discover and celebrate the best of Hong Kong's local music!
Hong Kong Showcase Night - 15th April
The Hub Wanchai - 1F Fortune Building, 150-158 Lockhart Road, Wan Chai.
The Week is all about the music of Hong Kong. That's why this year, we're kicking off with our Hong Kong Showcase Night. For our opening, we'll be sharing some of our favorite bands of the city with the audience. Wondering what local bands are not to be missed? Make it Sunday and find out.
World Music Night - 16th April
Ping Pong Gintonería - 129 Second St, Sai Ying Pun.
Is Hong Kong really Asia's international city? Tonight it is! Come get a taste of the world village as Hong Kong artists revisit music and dances from Asia, Africa and America. Cosmopolitan Hong Kong, right here at our World Music Night.
Hip Hop Night - 17th April
This Town Needs - 1F, Commercial Accommodation, Ocean One, 6 Shung Shun Street, Yau Tong.
Tuesday is Hip Hop Night. It was lit last year with over 250 music lovers attending, and you can bet it'll be lit this year too. Local freestyle legend Mastamic is headlining and some of the city's newest and freshest rappers will make sure you go home with a few new names to add to your favorites.
Metal Night - 18th April
This Town Needs - 1F, Commercial Accommodation, Ocean One, 6 Shung Shun Street, Yau Tong.
Prepare your neck and unleash your hair, it's mid-week and we're celebrating Hong Kong's hardest music with our Metal Night. We've decided to look far and wide to bring you all this scene has to offer. From electronicore to deathcore, get ready to redefine your tastes!
Prog Rock Night - 19th April
Drummers' Ark - Room B, 4/F, Lee Ka Industrial Building, 8 Ng Fong Street, San Po Kong.
It just wouldn't be the Hong Kong music scene without a Prog Rock Night to celebrate the city's most hypnotic music. With headliners Life Was All Silence, get carried away by otherworldly harmonizations and 34-bar progressions from the best instrumental rock bands in town.
Girls Night - 20th April
MOM Livehouse - B39, Seven Seas Shopping Centre, 117-121 Kings Road, North Point.
Friday night is the perfect night to drink, dance, and smash the patriarchy. Come join some of the most exciting bands of the moment for our Girls Night. Math-folk stars GDJYB will be headlining a parade of feminine talent that'll leave you wondering why you hadn't heard it before.
Soul Funk Night - 21st April
Lost Stars Livehouse - G/F, shop 506, 11 Li Tak Street, Square Mile, KLN.
Why go out on a Saturday if it's not to get funky? Tonight is all about power of local music to make us wriggle, jiggle and wobble. With the irresistible, dancy tunes of our Soul Funk Night, let us take care of your ears and your hips. We want to make this a party to remember, so expect a few surprises!
Event Host
Mapotofu Events Ltd
You already have an order in progress. Would you like to cancel the previous order and start again, or would you prefer to return to the previous order instead?
It seems you already have an order in-progress. Please finish or cancel your existing order before starting a new order.
Cancelling previous order...
Your order is already cancelled.