Show Taxi
The Vagabond Club
39 Syed Alwi Road, , S(207630), Singapore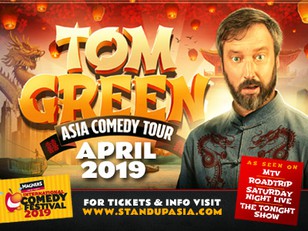 Tom Green live in Singapore
Event Details
Show more
More Details
TOM GREEN IN SINGAPORE
Friday, 12th April 2019 at 8:00 PM
The Whiskey Library at The Vagabond Club
Announcing TOM GREEN at the Magner's International Comedy Festival in Singapore
TOM GREEN, acclaimed comedian, actor, filmmaker, and talk show host, found mainstream prominence via his influential and outrageous MTV television series, The Tom Green Show. Before reality TV, YouTube, and social media existed, GREEN's comedy changed television conventions forever by blurring the lines between pranks and performance art. His success landed him roles in mainstream Hollywood movies, such as Freddy Got Fingered, Road Trip, Charlie's Angels, and Stealing Harvard. He has graced the cover of Rolling Stone, hosted Saturday Night Live, guest-hosted Late Show with David Letterman, and appeared on Oprah, Jay Leno, Conan O'Brien, Jimmy Kimmel, Jimmy Fallon, the Daily Show, and Comedy Central. Now, GREEN has made an enthusiastic return to his stand-up comedy roots, receiving 5-star reviews worldwide. The material in his current tour is the strongest of his career, adding more personal elements and underlying tenderness to the prank, man-on-the-street, visually surreal comedy he's famous for. Don't miss your chance to see this brilliant comedian take the Singapore stage. Your only disappointment will be when the show ends.
Do not miss TOM GREEN at the Vagabond Club this April. Tickets are on sale now for 80 SGD or 110 SGD for VIP tickets, which include meet & greet with Tom Green and two-hour free flow on selected beverages. Get your tickets today on TicketFlap: https://www.ticketflap.com/tomgreen-sg19
About MAGNERS INTERNATIONAL COMEDY FESTIVAL
Magic Rock is a Singapore-based company that organizes comedy festivals and events throughout Asia. It has brought international headliner comedians, such as Doug Stanhope and Bill Bailey, to vibrant, multicultural audiences across the region. Event sponsors include Hong Kong Tourism Board, Singapore Tourism Board, Clarke Quay, and Westin Hotels & Resorts. For more information, please contact Sammy Grill at: sammy@magicrock.com.sg |web: www.comedyfest.asia | facebook: @magnersinternationalcomedyfestival | instagram: @standupasia.comedy
You already have an order in progress. Would you like to cancel the previous order and start again, or would you prefer to return to the previous order instead?
It seems you already have an order in-progress. Please finish or cancel your existing order before starting a new order.
Cancelling previous order...
Your order is already cancelled.