Show Taxi
Volar
Basement, No. 38-44 D'Aguilar Street, Lan Kwai Fong, Central, Hong Kong, Hong Kong
Volar
中環蘭桂坊德已立街 38-44 號地下室, 香港
VOLAR x Red Bull Presents Tube & Berger
Event Details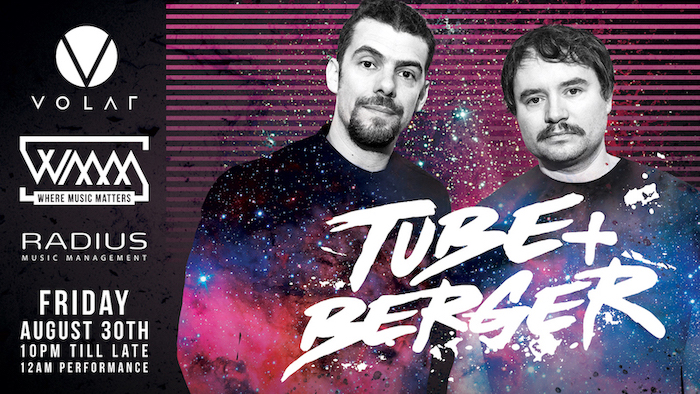 Show more
More Details
Tube & Berger have undoubtedly shaped the Deep House genre, crafting several scene defining records in the last couple of years. Now you can catch them in Hong Kong only at VOLAR!


---- EVENT DETAILS ----
Event: VOLAR x Red Bull presents Tube & Berger
Date: Friday, 30th August 2019
Time: 22:00 Doors \ 12AM Performance

---- TICKETS ----
At The Door:
Advance - $300 with 2 drinks
At the Door - $400 with 2 drinks


------------------ TUBE & BERGER (Biography) ---------------

Tube & Berger started their musical journey over a decade ago. Since then, the house producers released two acclaimed studio albums, played gigs around the world and have over 60 million YouTube plays to their name.

From early experiments in the world of Punk music, the German duo's first breakthrough came with their 2004 hit 'Straight Ahead', which featured the vocals of The Pretender's Chrissie Hynde and shot straight to the top of the Billboard Dance Radio Chart. Since this early success, their output has evolved significantly, through incorporating real-life recordings and samples into their music. Their intricate, emotion-laden production style creates records that are organic and evocative, without losing that dancefloor punch essential for the modern-day DJ.

Tube & Berger have undoubtedly shaped the Deep House genre, crafting several scene defining records in the last couple of years. More notably is 'Imprint of Pleasure', a heart-wrenchingly poignant dance floor anthem released on Suara Records that was named Beatport's 9thTop Selling Track of All Time, racked up a hefty 32 million streams on Spotify and has provided the soundtrack for festivals and dance floors for over many years.
Last year, Tube & Berger and Junior Jack's collaboration track "E Samba 2018" peaked at No.2 on the Beatport main chart and was No.1 in their House Chart for 6 weeks in Summer, gaining huge DJ support from the likes of Pete Tong, Erick Morillo, Fisher, Claptone, Flashmob and Nora En Pure.

Along with friend and fellow DJ Juliet Sikora they run the labels Kittball Records and ZEHN Records. Next to releasing their own tracks, both labels have signed prominent artists like &ME, Andhim, Betoko, Dennis Cruz, Djuma Soundsystem, Ida Engberg, illyus & Barrientos, Purple Disco Machine, Township Rebellion and many more. On Kittball, Tube & Berger released their debut studio album 'Introlution' back in 2012. Their second album 'WE ARE ALL STARS' was released in May 2017.

In terms of live performances –Tube & Berger never tire. Tube & Berger are proved Ibiza heavyweights with frequent shows at ANTS in Ushuaia and Booom! Ibiza. Festival-wise they had sets at Tomorrowland, Loveweek Festival, Eastport Festival, Claptone's Masquerade and played dates at ADE including 'All Gone Pete Tong' and multiple Toolroom Showcases.
#tubeandberger #dj #nightlife #party #music
You already have an order in progress. Would you like to cancel the previous order and start again, or would you prefer to return to the previous order instead?
It seems you already have an order in-progress. Please finish or cancel your existing order before starting a new order.
Cancelling previous order...
Your order is already cancelled.