Show Taxi
Eaton Club (Central)
Eaton Club, 5/F Champion Tower, 3 Garden Road Central, Central, Hong Kong

冠君大廈 5樓, 花園道3號 , 中環, 香港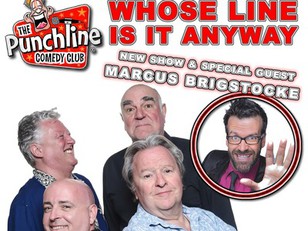 Punchline Comedy Club - Whose Line Is It Anyway with Marcus Brigstocke (Nov 16)
More Details
The Punchline Comedy Club's hugely popular improvisational show "Whose Line Is It Anyway?' is back again by popular demand BUT this time its been revamped and will include new impro games and have special guest star performer Marcus Brigstocke!!
The 'Whose' Who
For those unfamiliar with this unique concept, the TV series, Whose Line is it Anyway?remained a massive hit in the UK for over a decade and now enjoys the same success in the USA after Channel 4 sold the show to NBC. According to The Times, this show with its new cast is "Pure talent, better than the TV show!" The five renowned comedic alchemists promise to hit comedy gold by taking scenarios, genres, phrases and props suggested by the audience and turning them into a hilarious array of sketches, songs, comic dramas and more.

Special Guest Star:

MARCUS BRIGSTOCKE!!

Marcus Brigstocke often does guests spots in London for the 'Whose Is it Anyway?' show but this will be the first time doing so in Hong Kong!

Whilst studying drama at Bristol University Marcus won the BBC New Comedian of 1996 and has since emerged as a major comedy, writing and acting talent, performing in the UK and beyond.
With his latest tour, Devil May Care, he has broken the mould and steps out to address his audience as Lucifer himself. As ever he continues to be an outspoken political voice in British stand-up and is a well-known face on the festival circuit, including Edinburgh Festival, Hay Literary Festival and Glastonbury.

He is a regular on Radio 4's 6.30 comedy slot with his shows The Brig Society and I've Never Seen Star Wars as well as being a regular guest on the iconic 'Just a Minute'.
In addition the second series of his radio sitcom, The Wilson's Save the World, written with Sarah Morgan will be airing later this year.

On stage his credits include nationwide and West End runs playing King Arthur in Spamalot, appearing in The Railway Children as Mr. Perks at Waterloo Station, a triumphant panto run as Captain Hook at Wimbledon Theatre and most recently his successful run playing the greatest showman P.T Barnum which saw him displaying many new talents including tightrope walking!
On film his credits include Love Actually, Beyond The Sea and Telstar. He recently reprised his role as the DJ in Love Actually for Comic Relief.
Marcus successfully published his first book, God Collar with Bantam in 2010, exploring his relationship with faith.
Stephen Frost's list of accolades include starring in several episodes of the iconic historical sitcom Blackadder, as well as playing a regular role in cult student comedyThe Young Ones, is the most recognisable performer on this tour. Trained at the Guildhall School of Music and Drama, Frost is well known on the comedy circuit for his work with The Comedy Store Players and his appearances on Whose Line Is It Anyway.
Andy Smart has been a featured member of The Comedy Store Players since 1995, arriving there from a round-about passage via street entertainment and one too many visits to the Pamplona Bull Running Festival, which he does like clockwork every year.
Ian Coppinger, described by the Irish Times as, "A sophisticated Billy Connolly," is one of Ireland's busiest comedians and comic writers, having penned scripts for The Late Late Show and The Stand Up Show, but whose primary concern remains The Comedy Improv, which he founded in 1992 and performs every Monday at the International Bar in Dublin.
Event Host
The Punchline Comedy Club
You already have an order in progress. Would you like to cancel the previous order and start again, or would you prefer to return to the previous order instead?
It seems you already have an order in-progress. Please finish or cancel your existing order before starting a new order.
Cancelling previous order...
Your order is already cancelled.