Show Taxi
Central Harbourfront Event Space
, , , Hong Kong
中環海濱活動空間
Wild West x Beertopia
A Wild West themed market for all ages as a part of Beertopia, one of Hong Kong's most anticipated c
Event Details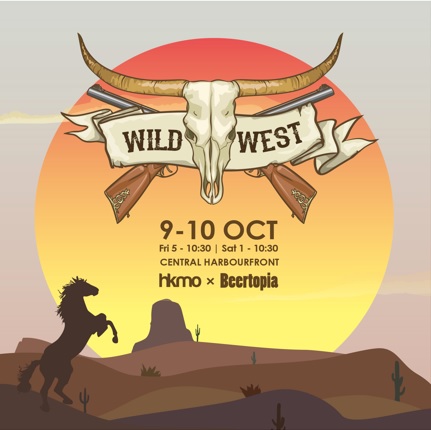 Show more
More Details
Get yourself ready for a trip back into America's Wild West with all its purdy nostalgia and tons of colourful characters!
HKMO is partnering up with Beertopia to take the beer festival to another level – we'll bring an American Wild West frontier town to the Central Harbourfront!
Take the youngins to pan for gold, go to the shooting range to test your quick draw. Browse about the quaint western gift shops, chow down in the town's eateries, or just rest your doggies a spell and let the youngins romp 'round while you lose yourself in the thick atmosphere of the Ol' West.
The vendors
- Maledetti Toscani: the finest leather creations that last a lifetime and more;
- Happy Mix: tea mocktails that cool you down in an instant, equally satisfactory as beer;
- Evoke 90's Vintage: Revolving around exploration tools and natural resources, the accessories from Evoke 90's Vintage are made for the adventurous souls.

The games
- Shoot 'em Up: Cowboy up, gun or run;
- The Lethal Archer: bows and arrows, let your skills and accuracy speak for you;
- Stand the Bottle: get the bottle up with a ring pole, trickier than you thought.

The activities
- Woodcraft workshops by Start From Zero, the folks who made the wooden caravan for last year's Clockenflap;
- Handicraft workshops to transform yourself into a Native American.

The pre-event fun
- Howdy Partner: Every Saturday, you're sent off to a mission to catch the target cowboy/cowgirl based on the time and location clues stated on HKMO Facebook Page or Wild West x Beertopia event page. Whoever is the first to accomplish the mission will be rewarded $1,000;
- The Wild Guess: Every correct guess on the photo-taking location of the weekly uploaded photo will be rewarded 3 tokens. Use the tokens to participate in games and workshops at Wild West x Beertopia.

Wild West x Beertopia Event Page: https://www.facebook.com/events/1667948786775168/
Event Host
Hong Kong Markets Organisation
You already have an order in progress. Would you like to cancel the previous order and start again, or would you prefer to return to the previous order instead?
It seems you already have an order in-progress. Please finish or cancel your existing order before starting a new order.
Cancelling previous order...
Your order is already cancelled.