Show Taxi
The Riff
8/F California Tower, 30-32 D'Aguilar St, Central, Hong Kong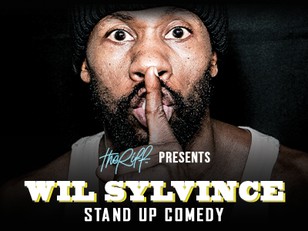 The Riff Presents: Wil Sylvince
Event Details

Show more
More Details
This event is Bring Your Own Beverage!

The Riff Comedy Club is opening its doors, right in the heart of LKF. The Riff is Asia's premier standup comedy club. It is Hong Kong's only full-time comedy venue, and the first on the continent from Live Nation, the entertainment house behind the legendary Punchline Comedy Clubs in the US, home to giants including Dave Chappelle.
Live Nation brought standup greats to the city like Jim Jefferies, Jim Gaffigan and Russell Peters, and The Riff is ground zero for relentless world-class comedy.
The show room was built by comedians, for comedians, and is the ultimate intimate setting for the jokes to roll hard and the laughs to roll harder.
For their opening weekend, The Riff is flying in comedian Wil Sylvince all the way from NYC. Wil is one of the most explosive comedians performing around the world today. His comedic performances on COMEDY CENTRAL, HBO'S DEF COMEDY JAM and SHOWTIME, all garnered standing ovations, a feat rarely seen accomplished by many performers. His unique perspective on political and social issues, with a twist of his West Indian Haitian culture, makes Sylvince a comedian in high demand. He has been hand-picked by comedian heavyweights Dave Chappelle, Damon Wayans, D.L. Hughley, Wayans Brothers, Katt Williams and Gabriel Iglesias to tour the US.
You already have an order in progress. Would you like to cancel the previous order and start again, or would you prefer to return to the previous order instead?
It seems you already have an order in-progress. Please finish or cancel your existing order before starting a new order.
Cancelling previous order...
Your order is already cancelled.