Show Taxi
Shouson Theatre
Hong Kong Arts Centre, 2 Harbour Rd, Wanchai, Hong Kong
香港藝術中心壽臣劇院
香港灣仔港灣道二號, 2 Harbour Rd, Wanchai, 香港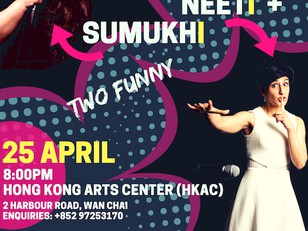 Neeti + Sumukhi - Stand Up Comedy in HK
Event Details
G1 & G2 - Only for wheelchair audiences.Please note Shouson can only accommodate 1 wheelchair audiences at a time.
L1, L2, L30, L31 – with sightline problem.
Show more
More Details
2MuCh presents an all women stand-up special featuring top-Indian comedians Neeti Palta and Sumukhi Suresh.
Neeti Palta: "India's star female stand-up comic- she does a wicked turn with great aplomb"- Shashi Tharoor
Neeti brings to the Indian Stand up Comedy scene what it lacks- a female perspective. She was selected as India's first Stand up Comedian to perform at the prestigious Melbourne Comedy Festival 2013.
Sumukhi Suresh: "India's Tina Fey"- Hindustan Times
The young Sumukhi is an internet sensation creating several viral videos and a web series for Amazon Prime. In India where stand up comedy is dominated by men, Sumukhi stands out as one of the very few successful female comedians.
You already have an order in progress. Would you like to cancel the previous order and start again, or would you prefer to return to the previous order instead?
It seems you already have an order in-progress. Please finish or cancel your existing order before starting a new order.
Cancelling previous order...
Your order is already cancelled.