Show Taxi
FLY
G/F, 24-30 Ice House Street, Central, Hong Kong, Hong Kong
FLY
中環雪廠街 24-30 號地下, 香港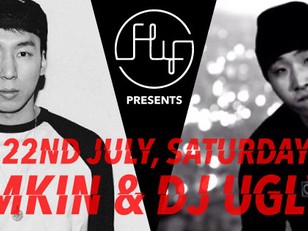 YETI OUT X FLY Presents UGLYDUCK & DJ PUMKIN
More Details
Brace yourself for some dope action from Seoul's hottest hip hop label AOMG. DJ UGLYDUCK and DJ PUMKIN - Saturday 22nd July
UGLY DUCK
Sun Ju Kyung [Ugly Duck] is an underground korean rapper from South Korea. He debuted on 2011. He went solo for a while and became a part of the crews 'BUCKWILDS' and 'DO'MAIN'. On March 2014, he finally signed and joined the label of 'AOMG' with 'DJ Wegun' handled by Jae Bum Park [Jay Park]. The 'AOMG' group consist of Jay Park, Simon Dominic, Elo, Loco, Gray, Hep, Cha Cha, Jeongoon, DJ Pumkin, DJ Wegun & Jinooya. (And Ugly Duck himself.) He released his first mixtape named 'Ugly Shit' November 2011. The Track List and the Download link will be linked on the 'songs' section.
DJ PUMKIN
DJ Pumkin is part of unknownDJs together with DJ Friz, DJ Bamboo, and DJ Yongfla. Last year, he has toured the US with the Back & Forth Club Tour alongside some of the biggest Dj's on the Seoul scene , including DJ Wegun, DJ Son, Ugly Duck, Yumdda, Ddolbae and more. His portfolio includes amongst others featurings for Epik High, TBNY, Supreme Team, Sik-K, Gary, and The Quiett.
AOMG is an independent South Korean record label led by Jay Park and Simon Dominic. AOMG is an acronym that stands for "Above Ordinary Music Group" or "Always On My Grind. The group houses some of the hottest acts in hip hop culture, namely GRAY, LOCO, ELO, DJ Pumpkin, DJ Wegun, Hoody, and Ugly Duck.
You already have an order in progress. Would you like to cancel the previous order and start again, or would you prefer to return to the previous order instead?
It seems you already have an order in-progress. Please finish or cancel your existing order before starting a new order.
Cancelling previous order...
Your order is already cancelled.