Show Taxi
This Town Needs
1/F, Ocean One, 6 Shung Shun Street, Yau Tong, Kowloon, Hong Kong, Hong Kong

崇信街6號Ocean One 一樓, 九龍油塘, 香港
Zenegeist's 5th Anniversary Presents: After Sunset, Before Midnight
With Sunset Rollercoaster, Deca Joins and Midnight Ping Pong
More Details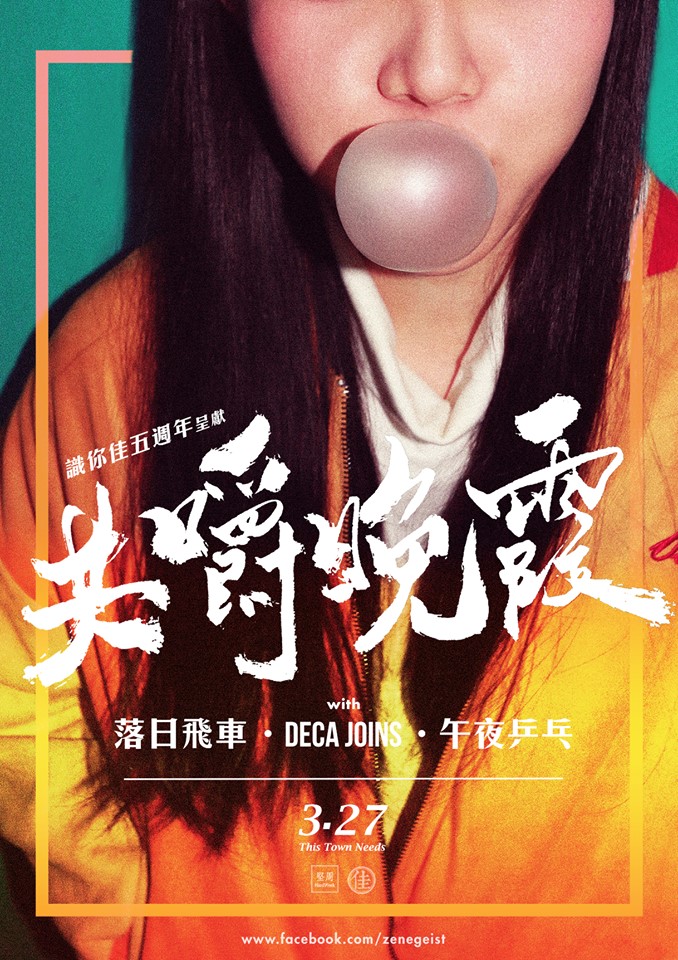 It is now the sunset before the midnight. It is now the twilight before the dawn.
We are here joining all dots and inviting you to celebrat Zenegeist's 5th anniversary!
Show us love and embrace Sunset Rollercoaster, Deca Joins and Midnight Ping Pong from Taiwan.
Just as you take the mic
Just as you dance, dance, dance!
Details:
Zenegeist's 5th Anniversaries: After Sunset, Before Midnight
Venue: This Town Needs (1/F, Ocean One, 6 Shung Shun Street, Yau Tong, Kowloon, Hong Kong)
Date: 27th Mar 2018 (Tue)
Time: 7:30pm
Price: $360 (Advance); $390(door)
Line-up:
- Deca Joins (TW)
- Midnight Ping Pong (TW)
- Sunset Rollercoaster (TW)
#band #indie #taiwan #sunset #rollercoaster #deca #joins #midnight #ping #pong #Zenegeist #識你佳 #共嚼晚霞 #落日飛車 #午夜乒乓 #TTN
You already have an order in progress. Would you like to cancel the previous order and start again, or would you prefer to return to the previous order instead?
It seems you already have an order in-progress. Please finish or cancel your existing order before starting a new order.
Cancelling previous order...
Your order is already cancelled.