出示給的士司機
MO Bar
The Landmark Mandarin Oriental, Hong Kong, The Landmark 15 Queen's Road Central, Hong Kong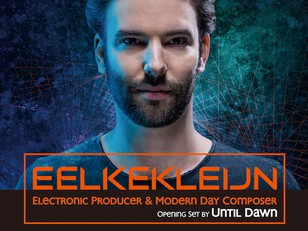 MO Sound-Bites Presents Eelke Kleijn
更多細節
ELECTRONIC DANCE PRODUCER AND MODERN DAY COMPOSER EELKE KLEIJN PRESENTS A SPECTACULAR TOUR DE FORCE IN THE LANDMARK MANDARIN ORIENTAL, HONG KONG'S 'MO SOUND-BITES' SERIES
The second 'MO SOUND-BITES' electronic music event of the year on 27 April at The Landmark Mandarin Oriental, Hong Kong features the Dutch electronic music maker Eelke Kleijn's unmistakable inventive fusion of music and experience, a hybrid of the daring, pulsating sounds that makes him one of today's most creative and versatile artists.
A rare talent who enjoys creating music as much as making it, Eelke hones each production with a meticulous balance of beats, harmonies and vocals, delivering a satisfyingly deep, energetic shape-shifting fusion of sound and experience.
The cutting-edge music maker performs all over the world with live shows this year in Miami, New Zealand, Australia, Turkey, Mexico, Buenos Aires and Belgium and says:
"I have a huge preference for warm, inspiring places over the cold, industrial environments that a lot of clubs are subject to. This is the feeling I want to bring to the people, not just during my own sets, but with the entire label and future events as well."
Based in Rotterdam, Kleijn first made his mark globally on the electronic music scene aged 20 with his debut tracks '4.5 Billion Years/Knowledge Base' for Segment Records when his original style combined the world of electronic dance production with modern day composing in genre-defining sounds.
Over the next decade he worked with some of the top imprints in dance music, from Ultra and EMI to Global Underground, 3 Beat, Spinnin' and Sudbeat, before setting up his own label and releasing major artists alongside his own impressive smash hits Lveensgeneiter, Doordrammer and Eenvoud. His creative talents as a cinematic synchronizer were soon noticed by Hollywood, who commissioned him to sync distinctive organic sounds for the trailers for Parker, Wrath of The Titans and This Means War and other blockbusters.
Immerse yourself in Eelke Kleijn's performance, complemented with the supporting act by Re:Flex, in MO Bar's upgraded new state-of-the-art Amadeus sound system, designed for full-range music reproduction and complemented by special lighting effects by Visual System.
MO SOUND-BITES presents Eelke Kleijn on 27 April 2018. Doors open at 10pm. Tickets on sale now at Ticketflap at HK$300 per person. Tickets at the door at HK$350 per person. A limited number of VIP Tables for four are available at HK$2,000 per table and including four tickets. For enquiries, please contact MO Bar at +852 2132 0077 or lmhkg-mobar@mohg.com
About Our Partners
Jason Swamy
Jason has over 18 years of entrepreneurial experience in the electronic music space as DJ, promoter, talent buyer, booking agent, club owner, curator, festival producer and creative director. As founder of the marketing agency Do What You Love, he influences both the American and Asian electronic music worlds and is best known for his role as Co-Founder and Creative Director of Further Future, a technology lifestyle-driven festival, and Wonderfruit, Asia's first family-friendly sustainable lifestyle festival. Jason has brought the Ultra Music Festival to Macau/Hong Kong and Manila.
Visual System
Visual System (VS) is a collective of artists from various disciplines (image, sound, plastic arts, programming, design, architecture), created in 2007. Positioned at the frontiers of art and design, they draw creative inspirations from cinema and architecture. Their world-renowned sound and light projects are energized by a vision of the media in the city of tomorrow. By playing with new technologies, VS uses light and sound as a spatial and spectral tool.
Don Julio 1942®Tequila
Celebrated in exclusive cocktail bars, restaurants and nightclubs, the iconic Don Julio 1942®Tequila is the choice of connoisseurs around the globe. Produced in small batches and aged for a minimum of two and a half years, Don Julio 1942® Tequila is handcrafted in tribute to the year that Don Julio González began his tequila-making journey.
Dom Pérignon
Dom Pérignon's commitment to vintages is absolute. Each bottle of Dom Pérignon is a true act of creation, made from only the finest grapes. The champagne's intensity, so inviting, so mysterious, is based on precision. Each vintage has three Plénitudeswhich embody a complete faith in the power of creation of Chef de Cave, Richard Geoffroy. With a bold sense of playfulness, Dom Pérignon inspires the greatest creators in the world.
Peroni Nastro Azzurro
The story of Peroni Nastro Azzurro begins in 1846, when Francesco Peroni established the Birra Peroni brewery in Vigevano, Italy. During the 60s, when Italy was setting the definition of style around the world with its Dolce Vita way of life. Today, Peroni has become highly representative of classic Italian style and culture. This premium beer is 5.1% alcohol by volume and expertly brewed using only the finest quality and two row spring barley, maize, malts and hops and by following a meticulous production process. This gives Peroni its unique taste which is refreshing and dry, with a clear-cut, clean character and clarity, achieved through the exclusive brewing process.
節目主辦團體
MO Bar at The Landmark Mandarin Oriental