出示給的士司機
Hidden Agenda (Winful Industrial Building) - Dont use
2A, Winful Industrial Building, 15-17 Tai Yip Street, Kwun Tong, Hong Kong, Hong Kong
Hidden Agenda
永富工業大廈 2 樓 A 室, 大業街 15-17 號, 香港牛頭角, 香港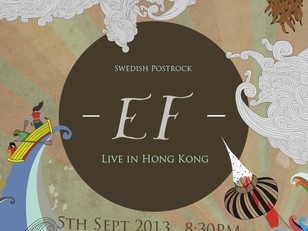 EF
更多細節
EF was formed in 2003.

In 2006 the band made themselves a name in the post-rock genre with their debut album "Give me beauty... Or give me death!" and the song "Hello Scotland". The band started to tour Europe intensively.

Second full length album "I am responsible" was released in 2008. A bit darker and more mellow story. The band moved up to the bigger live venues, played some festivals and also supported bands like Red Sparowes, 65daysofstatic, Aereogramme and many others.

"Mourning golden morning" was released on April 1st 2010 - recorded and produced by Magnus Lindberg (Cult of Luna). The album was more focused and dead-on. You can hear that the band had grown up. It got raving reviews in media all over the world and took the band all over Europe, Asia and later also to Russia.

EF may now count themselves as one of Europes hardest working bands in their genre - and they've proven that the DIY-motto is doable. They're also one hell of a live orchestra; it's explosive, energetic and emotional - all at the same time.