出示給的士司機
Mudita
24-30 Ice House St, Central, Hong Kong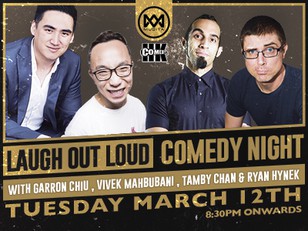 LAUGH OUT LOUD at Mudita
節目詳情
顯示更多
更多細節
A brand new comedy night featuring only the best of the best stand up comedians in Hong Kong! Get ready to Laugh Out Loud on the 12th of March!

---- EVENT DETAILS ----
Date: 12 March 2019
Time: 8:30 PM Onwards
Location: Mudita, 24-30 Ice House Street, Central
---- TICKETS ----
Advance - $200 with 1 drink
At The Door - $250 with 1 drink
For booking enquiries: info@mudita.hk | 28109902
Stay social - FB & IG: @mudita.hkg

---------- Garron Chiu ---------
Garron is an American-born standup comedian based in Hong Kong.
A mainstay in the Hong Kong scene, he won the 2018 Hong Kong International Comedy Competition after placing third in 2015, 2016 and 2017, and has appeared on Season 2 of Comedy Central's "Stand Up Asia!". He also performs all over the region, headlining clubs in Kuala Lumpur, Singapore, Taipei, Tokyo, Shanghai, Beijing and also placed 2nd in the 2016 Bangkok International Comedy Competition and 3rd in the 2018 China Comedy Competition.
On stage, you will find him trying to justify his ego, talk about his myriad of doomed relationships (and his current successful one), and try to figure out whether he is too Asian or not Asian enough. All this while failing to run from his stereotypes and making people laugh along the way.
---------- Vivek Mahbubani ----------
Vivek Mahbubani is a full-time Hong Kong-bred bilingual stand up comedian. He is the only person to ever win the Hong Kong International Comedy Competition in both Cantonese (2007) and English (2008). Vivek has had the opportunity to take his humour all over Asia-Pacific, including Hong Kong, China, Macau, Singapore, Malaysia, Manila, Bangkok, Sri Lanka, India and Australia.
When Vivek isn't travelling the world doing gigs on land and on ships, he spends time developing the Cantonese comedy scene in Hong Kong, leading a group called Hall of Laughs.
---------- Tamby Chan ----------
After immigrating to Canada at the age of 7, Tamby developed his sense of humour as a social defence mechanism in lieu of speaking fluent English. He has been continuously refining his comedic voice through trial and error ever since.
Tamby was the winner of the Bangkok division of the Magners International Comedy Competition in 2018 and placed 2nd at the regional finals. His unique perspective, incisive write an adequate stage presence have made him a popular headline act around Asia. Tamby also founded and runs the ROFLMania all-star comedy showcase, HKG Storyteller Show and BUSHIROAST roast battle tournament.
---------- Ryan Hynek ----------
Ryan is a Chicago native who's been yucking it up on the Asia comedy circuit since 2007. He's had the fun of taking his jokes on the road from Chicago, Hong Kong, Singapore, Philippines and beyond. He's been a finalist of the Hong Kong International Comedy a record 6 times and is a regular headliner around Asia.