出示給的士司機
Mudita
24-30 Ice House St, Central, Hong Kong
Laugh Out Loud IV at Mudita | Comedy NIght
節目詳情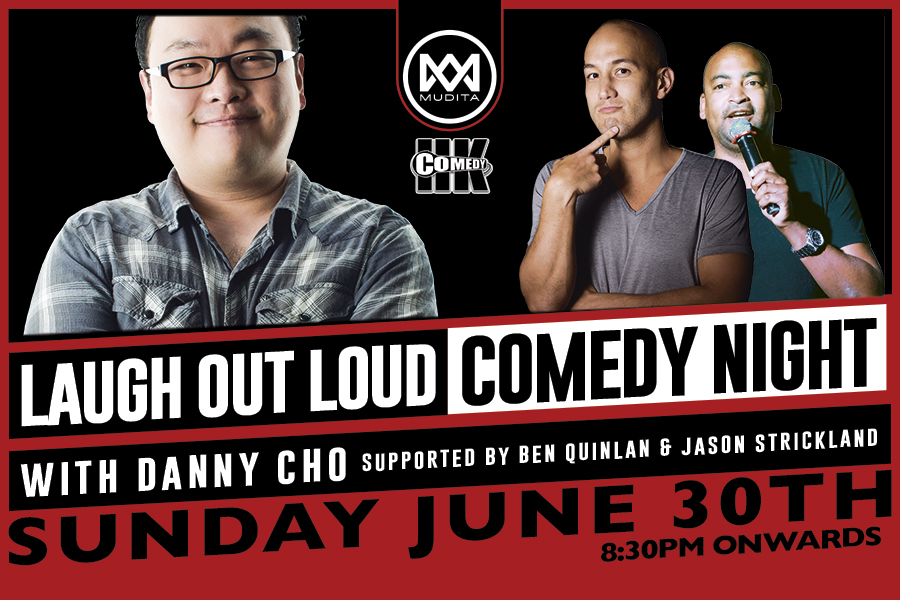 顯示更多
更多細節
Laugh out Loud is back for its 4th with a very special show as we are excited to have a special Korean-American guest comedian from California, Danny Cho!
Danny Cho has appeared alongside Bobby Lee in Mad TV and has been in various commercials and tv shows, such as his reoccurring role on Parks and Recreation, as China Joe.
Danny Cho will be supported by Hong Kong's very own favourite comedians Ben Quinlan who recently just had a back to back sold out 1-hour comedy special & Jason Strickland who
has performed across the globe.
Book your advance tickets now to secure your spot, and enjoy the evening with a drink (or more) in hand as you enjoy the show.
---- EVENT DETAILS ----
Date: Sunday, 30th June
Time: 8:30 PM Onwards
Location: Mudita, 24-30 Ice House Street, Central
---- TICKETS ----
Advance - $250 with 1 drink
At The Door - $300 with 1 drink
For booking enquiries: info@mudita.hk | 28109902
Stay social - FB & IG: @mudita.hkg
.---------- Danny Cho ---------
During the summer of 2000, Danny then took a real shot at standup comedy through a dare from his high school friends. Like any hormonal/prideful teenager, Danny took the dare and performed at the nearest open mic night competition which happened to be a café in South Central LA. To make a long story short, Danny did well enough to win the competition.
Being bit by the comedy bug, Danny started performing stand-up during his stay at UCLA. He performed shows at the Laugh Factory and the Improv, both in Hollywood. However, through the pressures of his conservative parents, Danny joined the corporate world as a business consultant.
Nevertheless, he still performed comedy at shows all over Southern California and occasionally at out of state universities. In 2006, while still working as a business consultant, Danny had his first national tv acting gig on Mad TV. Danny played Pongo, a fat/mute Thai movie critic alongside
Bobby Lee. Danny played that character for several episodes on Mad TV.
In 2007, Danny hated his career as a business consultant so much that he quit. He hated the job so much he would go to the local bar and drink so much hoping to get a DUI so he can miss work. He decided that he needed to be a full time comedian and actor. Danny recently was in a Bud Light Commercial, which aired during the SuperBowl. He played an Asian foreign exchange student that tries to hit on American girls. Initially, Danny was afraid that this character would set back the progress that Asians Americans were making in the media, but the hunger and bills outweighed that worry and he took the gig.
In the last few years, Danny has been in various commercials and tv shows, and movies. He had a reoccurring role on Parks and Recreation, as China Joe. In addition, Danny has been traveling all over the world doing stand up comedy. Recently, Danny wrote a screenplay titled Ktown Cowboys, that was accepted to the South by Southwest film festival in 2015 and was released in the spring of 2016. Danny was part of the King of Ktown comedy special which was released on Amazon early 2017.
Currently, Danny is fostering the burgeoning stand up comedy scene in Korea.
---------- Ben Quinlan ---------
Hailing from an Australian father and Chinese mother, Ben Quinlan is a Hong Kong born and raised stand-up comedian. Ben has headlined at major comedy clubs around Asia, including Hong Kong, Singapore, Shanghai, Kuala Lumpur, Bangkok, Manila, and Taipei. He appeared on Comedy Central's Stand-Up Asia! Season 2 and was the winner of the 2017 Hong Kong International Comedy Competition. Ben has also opened for a number of international comedians on their Asian tours, including Russel Howard, Kevin Bridges, and Doug Stanhope. He sold out all of his past eight 1-hour comedy specials in Hong Kong. Aside from wearing his comedy hat, Ben is a regular TEDx speaker and a prominent keynote presenter at major financial services conferences around the world. He is regularly interviewed by leading financial news channels (including Bloomberg, Reuters and CNBC) as the CEO of his own strategy consulting firm, Quinlan & Associates. Ben's unique corporate and comedy background has seen him featured on a number of leading international media publications, including SCMP, TimeOut Magazine, XXIV Magazine, IFR Asia, and eFinancialCareers
---------- Jason Strickland ---------
Jason Strickland is an English stand up comic who started in 2010, since then he has performed across the globe and been a constant figure on the HK scene for the last few years