出示給的士司機
Mudita
24-30 Ice House St, Central, Hong Kong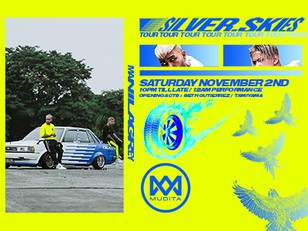 Mudita presents Manila Grey
節目詳情
顯示更多
更多細節
Bridging modern eastern aesthetics with atmospheric R&B sonics, MANILA GREY is a Canadian hip-hop/R&B duo from Vancouver, Canada.
The name "MANILA GREY" represents the duality of the duo being born in Manila then being raised in Vancouver, which is often described as a grey city given the frequency of the rain. Formed by childhood friends Soliven and Neeko who have been making music together along with Manila Grey's in-house producer azel north.
With over 30M streams in just over a year, the duo has quickly been recognized as the leaders of the new hip-hop and R&B wave coming out of the west coast and for the first time ever, will be perfoming LIVE in Hong Kong only at Mudita!
Catch the rap/R&B duo on the stage at Mudita on Saturday, 2nd of November.
Only a LIMITED number of Advance Tickets will be available. Get yours now and save!
---- EVENT DETAILS ----
Event: Mudita presents MANILA GREY
Date: Saturday, 2nd November 2019
Time: 22:00 Doors \ 12AM Performance

---- TICKETS ----
Advance - $300 (with 2 drinks)
At the Door - $400 (with 2 drinks)

For table bookings: info@mudita.hk | 2810 9902


MANILA GREY:
Official Website: https://manilagrey.com/
Facebook: https://www.facebook.com/manilagreymusic/
Instagram: https://www.instagram.com/manilagrey
Youtube: https://www.youtube.com/manilagrey
Spotify: https://open.spotify.com/artist/7KC9q5wx0bxMD5ABgLCoEd?si=NORbyVLYRy-54bAY-drh8Q
#manilagrey #hiphop #rnb #mudita #nightlife #liveconcert #artist