出示給的士司機
Mudita
24-30 Ice House St, Central, Hong Kong
Mudita Presents Booka Shade
節目詳情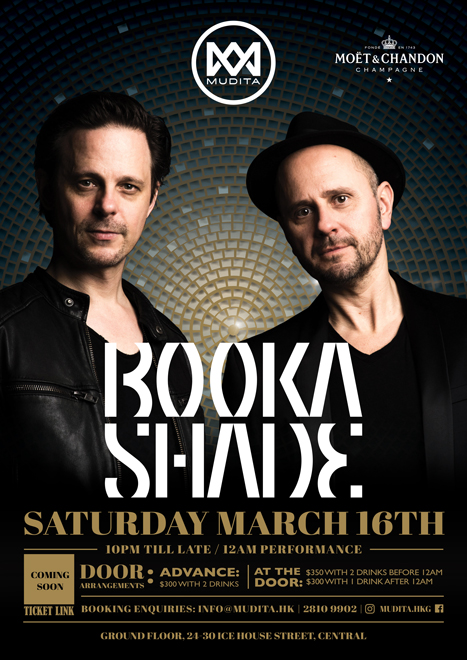 顯示更多
更多細節
---- EVENT DETAILS ----
Date: Saturday, 16 March 2019
Time: 22:00 Doors
Location: Mudita, 24-30 Ice House Street, Central

---- TICKETS ----
Advance - $300 (with 2 drinks)
At the Door
Before 12AM: $350 (with 2 drinks)
After 12AM: $300 (with 1 drink)

We are thrilled to announce that celebrated German electronic duo, Booka Shade will be coming to Mudita on the 16th of March to give us an incredible live set experience.
Get ready for a great night of house & techno. Get your advance tickets today!

------------------- BOOKASHADE (Biography) ----------------
Berlin-based duo Booka Shade (Walter Merziger and Arno Kammermeier) have carved out a reputation as one of the most celebrated electronic acts to come out of Europe over the past two decades.
With their beginnings in Frankfurt and their sights originally on synth-pop, the duo Booka Shade quickly gained a strong following. In 2002 Booka Shade formed the now legendary dance label Get Physical Music (together with M.A.N.D.Y., Thomas 'DJ T.' Koch and Peter Hayo), where they would have a platform for their own music.
Their fifth studio album 'Eve', released in 2013, marked the last traditional club music album for Booka Shade. 2 years later in 2015 "Movements 10", the 10 years anniverary of their milestone album, was the ultimate closure of the first chapter.
20 years, dozens of EP's and 6 albums later, Booka Shade have become more than a household name, they have become synonymous with the spirit which drives electronic music and have set a precedent to which electronic music is still held to today.
'I GO, I GO' THE FIRST SINGLE OF 2019
Booka Shade kicks off 2019 by joining forces with Kaktus Einarsson from Fufanu for a new single on their imprint, Blaufield. Premiered by Pete Tong on BBC Radio 1, 'I Go, I Go' features Kaktus Einarsson's emotive vocal contributions united with Booka Shade's signature hypnotic production style - textural atmospherics, choppy synth arpeggios and wandering, resonant bass tones alongside a bumpy rhythm.
"We met Kaktus at a festival in Ireland last summer where he played with his band, and when we talked it turned out that as a student he had been to our first show in Iceland, which by coincidence took place in Björk's former school."
Booka Shade ft. Kaktus Einarsson's 'I Go, I Go' is the first in a string of releases in 2019 which will be collated into a collection of songs and released via the label in September 2019.
Check them out:
Soundcloud: https://soundcloud.com/booka-shade
Spotify: https://open.spotify.com/artist/2CKaDZ1Yo8YnWega9IeUzB
facebook: https://www.facebook.com/bookashade
instagram: https://instagram.com/bookashade
YouTube: https://youtube.com/bookashadeofficial