出示給的士司機
Mudita
24-30 Ice House St, Central, Hong Kong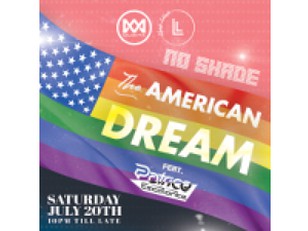 No Shade presents The American Dream
更多細節
Riding on the wave of 4th July celebrations of our American friends, we announce the next NO SHADE at Mudita on 20th July... the theme - THE AMERICAN DREAM and brought to you by Lifestyle Lobbyist.
NO SHADE embraces diversity in all its many colourful forms where the doors open for inclusivity for to our brothers and sisters however they wish to identify.
Expect to be teased by our sexy male and female bar servers on the night and dance the night away with dance-floor tunes from guest DJ Patrice Escalante- Guiheux - all in support of the LGBTQ community and friends.
COMPLIMENTARY VODKA MIXERS DRINKS FROM 11PM - 12AM
--- TICKETS ---
FREE ENTRY for first 80 to sign up
At The Door: $200 with 2 drinks
Follow us on our social media accounts:
IG - @noshadehk | @mudita.hkg
FB - @noshadehk | @mudita.hkg
Your likes and follows would mean a lot Thank you so much!
#lgbtq #party #gaypride #prideparty #4thofjuly #americandream