出示給的士司機
Relish.sg
Blk 116 Serangoon North Avenue 1, #04-513, Singapore 550116, Singapore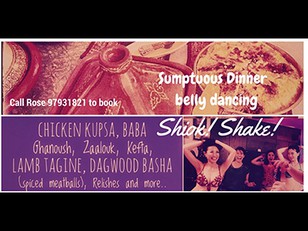 Arabian Night Dinner and Dance
節目詳情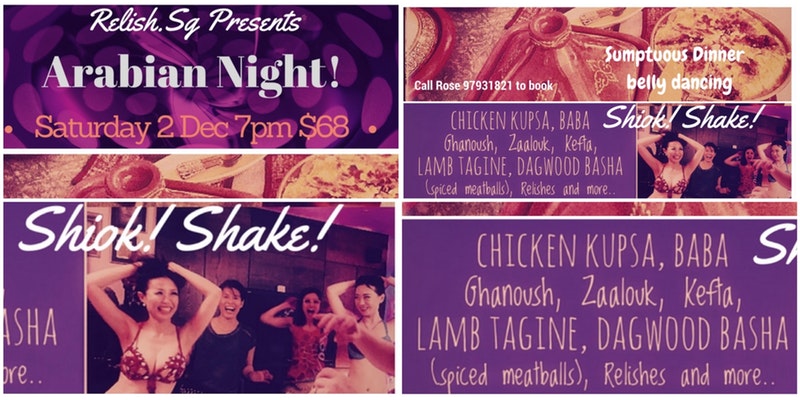 顯示更多
更多細節
Arabic cuisine has so many influences from Mediterranean, Middle Eastern, Indian, Spanish, Italian and Greek. It is simply delicious with unique spices, herbs, meats, vegetables, quite a different taste from our typical hawker fare. Open your mind to exotic tastes!
Relish.Sg is pleased to celebrate Arabian Night! with delicious Arabic Cuisine and the Dance of Arabia – Belly Dance! Hip Slides, circles and shimmies, be mesmerized by the ancient art of belly dancing, learn the basics and dance the night away after a lavish meal. Great family fun!
Your Hosts:
Chris and Rose began Relish.Sg, a private dining experience to share their love for cooking, art and entertaining. Chris was a dot.com entrepreneur. He plays the carnatic flute and tabla and is passionate about his collection of Tibetan Tankas, Tribal art, antiques, unique jewelry and crystals. Every piece has a story, which will unravel over food and a tour around their home. Chris is an expert in antiques and has sourced and bought beautiful and rare works of art for his clients. Rose is a television producer and loves creating events that combine art and entertainment with food. They believe life should be relished. Chris' culinary journey began when he was a student in the London School of Economics. His flair for cooking has deepened over the years and more recently he has revived some of his and Rose's family recipes, including their signature Chicken Paratel dish which was Rose's mother's very special recipe. Their curated dining experiences are personal with a delicious spread of family recipes and international cuisine. For intimate groups, Chris might play the tabla and flute and even show guests how to play these ancient instruments. Whether it is a cooking class, a private dining affair or a themed party with entertainment for a larger group, you can be sure every experience would leave you with a special memory.
Relish.Sg is all about uber-good grub and home-cooked fun. We teach cooking, host private dining and create happening weekly themed parties - a Moroccan escapade complete with tagine cooked lamb or chicken, Harira, Zaalouk and belly dancers or a Spanish interlude with sangria, tapas and Flamenco performances. We could be romancing the sitar with a spread of 12 vegetarian dishes from around the world or celebrating a fantastic fusion night where classical violin meets the ancient rhythms of the tabla. Or you might like a dose of cabaret and stand-up comedy fun! Whatever your fancy, the food is always delicious and the entertainment in sync. See our FB page for highlights of past events and our upcoming ones. We have spoiled groups of 4 to 35. Come celebrate a birthday, a colleague's farewell, reward your team with an "incentives night" or have a networking session in our home - choose from 7 menus - Moroccan, Indian, Chinese, Cajun, African, Western or Vegetarian. We are happy to customize too.