出示給的士司機
Relish.sg
Blk 116 Serangoon North Avenue 1, #04-513, Singapore 550116, Singapore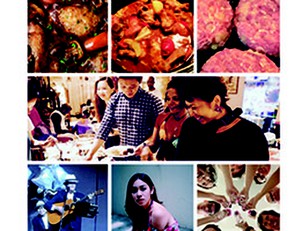 Relish.sg presents: Party Eurasian Style
節目詳情
顯示更多
更多細節
PARTY EURASIAN STYLE!
We partied Eurasian Style before and brought the house down with Jacintha and John Klass. We loved it so much, we are doing it again!

Hot Favourites by the best Chefs.
Devil Curry.
Cutlets. Macaroni. Black Squid. Pineapple Prawn Curry and more...
Did we say Devil Curry!!!
Song and lots of Dancing!
The Food!
The fiery red Devil Curry is a unique Eurasian dish found in Singapore and Malaysia and every Eurasian home would have their very special recipe and swear by their version being the best in the world and of course it would be. But with our Chef, Isabelle Hoeden you will get the very best in the universe! Generations in the family have made this recipe, each with its special flavor and nuance of magic with variations in the meats and spices that go into a big pot of supreme yummy goodness – chicken, sausages, and a paste of red chilies, shallots, garlic, ginger,, and more. So don your bibs, get ready to be smashed with the star dish for our special Party Eurasian Style! (back because you asked for it!!!!!) on 26 August, 630pm.
The Jam and Music

Rock and roll with Trevor Nerva and friends and enjoy a mini concert with Gayle Nerva-Unplugged! https://www.youtube.com/user/iamgaylenerva/ (https://www.facebook.com/iamgaylenerva). Trevor will belt out favourites from Queen, Prince, some fast and some faster tunes with his band, while Gayle will sing her original songs, playing guitar and accompanied by Marc Lian on bass. but the two great musicians will also blend their voices and perform together, beautiful duets, familiar and not so familiar tunes to remind you why we party!
We warned you...book your space early!
https://www.facebook.com/rose.sivam/videos/10154813046606845/
Your Hosts
Chris and Rose began Relish.Sg, a private dining experience to share their love for cooking, art and entertaining. Chris was a dot.com entrepreneur. He plays the carnatic flute and tabla and is passionate about his collection of Tibetan Tankas, Tribal art, antiques, unique jewelry and crystals. Every piece has a story, which will unravel over food and a tour around their home. Chris is an expert in antiques and has sourced and bought beautiful and rare works of art for his clients. Rose is a television producer and loves creating events that combine art and entertainment with food. Together they have helped decorate homes of friends, buying the right art piece and fitting it perfectly into their homes. They believe everything should be relished and savoured. Chris' culinary journey began when he was a student in the London School of Economics. His flair for cooking has deepened over the years and more recently he has revived some of his and Rose's family recipes, including their signature Chicken Paratel dish which was Rose's mother's very special recipe. Their curated dining experiences are personal with a delicious spread of family recipes and international cuisine. For intimate groups, Chris might play the tabla and flute and even show guests how to play these ancient instruments. Whether it is a cooking class, a private dining affair or a themed party with entertainment for a larger group, you can be sure every experience would leave you with a special memory.
Relish.Sg is all about uber-good grub and home-cooked fun. We teach cooking, host private dining and create happening weekly themed parties - a Moroccan escapade complete with tagine cooked lamb or chicken, Harira, Zaalouk and belly dancers or a Spanish interlude with sangria, tapas and Flamenco performances. We could be romancing the sitar with a spread of 12 vegetarian dishes from around the world or celebrating a fantastic fusion night where classical violin meets the ancient rhythms of the tabla. Or you might like a dose of cabaret and stand-up comedy fun! Whatever your fancy, the food is always delicious and the entertainment in sync. We do it all in our home, a typical HDB apartment on the outside, but a very special space once you enter. We have transformed our home into a treasure trove of mementos, antiques, beautiful things, each with a story to tell and we are happy to share these stories with you. Our Saturday themed parties are for friends and friends of friends, and we can house up to 35 guests. See our FB page for highlights of past events and our upcoming ones. We also do private dining on weekdays and have spoiled little groups of 4 to 15. Come celebrate a birthday, a colleague's farewell, reward your team with an "incentives night" or have a networking session in our home - you can choose from 5 menus - Moroccan, Indian, Chinese, Western or Vegetarian. We are happy to customize too. Our pricing ranges from $48 to $98 per pax depending on the food and the entertainment if that is required. We cater too. See our website at www.relish.sg for more.