出示給的士司機
LIVO
22/F Weswick Commercial Building, 147 Queen's Road East, Wanchai, Hong Kong, Hong Kong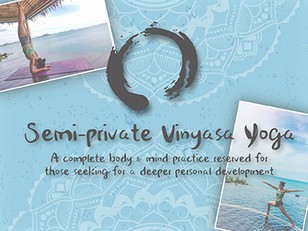 Semi-private Vinyasa Yoga
更多細節
If you are tired of big classes or looking for more individual guidance, this class is designed for you.
We will practice the Sun Salutation sequence followed by a series of asana postures that strengthen and stretches the legs, arms and spine. The class is designed to bring about a complete experience that expands and calms the body and mind. Throughout the class, we are invited to be aware of our body, breath and the sense of oneness that always resides within us. The class begins with Pranayama (breathing) exercises and ends with a complete total relaxation practice that is seldom taught in the mainstream yoga studios.
About the Teacher:
Frances has been practicing yoga regularly for 17 years. She enjoys sharing the healing benefits of yoga to others. She believes that yoga is a way that can ultimately help us to connect to our true nature that is complete wholeness. Frances is dedicated to share her practice especially with those who are seeking for a personal evolution.
She is a student of Dharma Mittra and received the 200-hour teacher's training in 2016 in New York. She is also a certified Universal Yoga teacher and received the 300-hour complete teacher's training in Universal Yoga in 2017.