出示給的士司機
Hidden Agenda
G/F Hung To Industrial Bldg, , 80 Hung To Road, Kwun Tong, Hong Kong

鴻圖工業大廈 G/F, 觀塘鴻圖道 80 號, 香港
SLEEPMAKESWAVES Live In Hong Kong 2017
節目詳情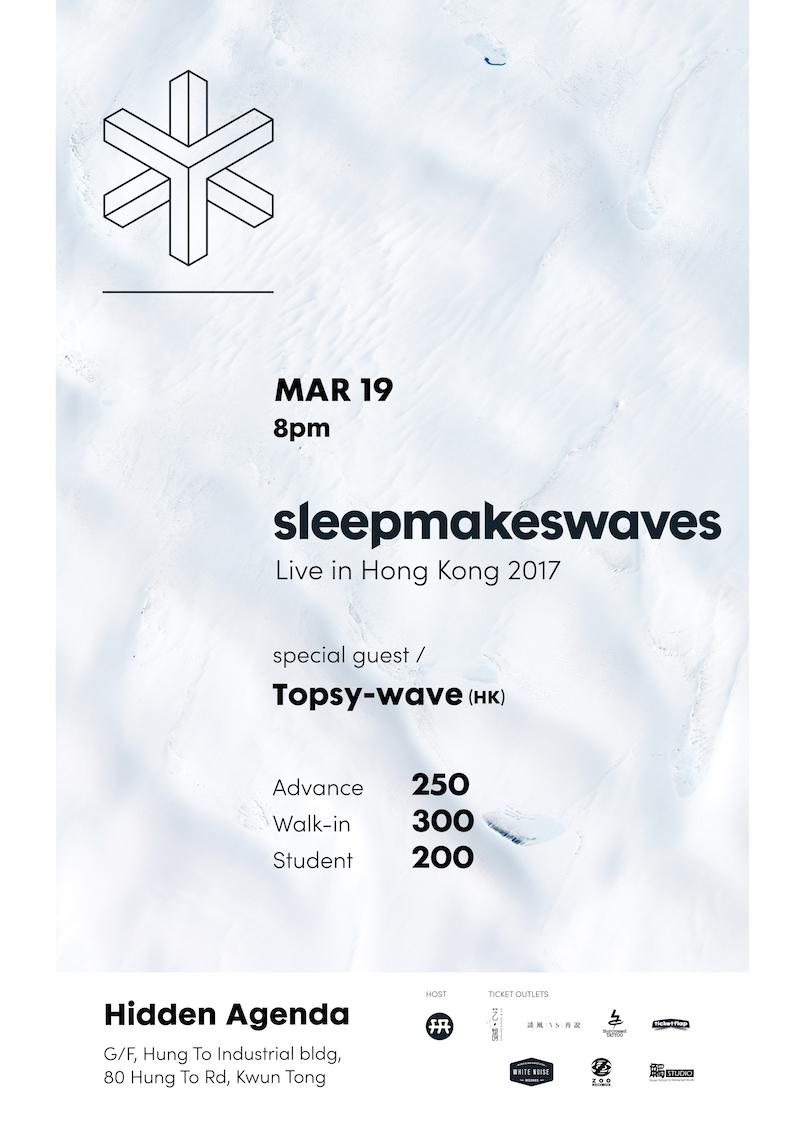 顯示更多
更多細節
樂隊 Bands : SLEEPMAKESWAVES (AU), TOPSY-WAVE(HK)
日期Date : 19 MAR 2017
時間Time : 8:00PM
入場費 Entrance Fee:$250 (advance)
地點Venue:Hidden Agenda
觀塘鴻圖道 80 號鴻圖工業大廈
G/F G/F Hung To Industrial Bldg,
80 Hung To Road, Kwun Tong
BAND INFO//
♫ SleepMakesWaves
sleepmakeswaves are an instrumental rock band from Sydney, Australia.
The band came together in late 2006 with a desire to write textured, dynamic and emotive songs combining delicate beauty with dramatic climaxes. After their 2007 demo generated unexpected buzz, they went on to independently produce 2 further EPs. Strong word of mouth and critical praise saw the band's listener base grow worldwide, with over 50,000 people downloading their tracks online and airplay on triple j, Radio K and the BBC.
In late 2011, the band released their debut studio album "...and so we destroyed everything" through independent Australian label Bird's Robe Records, kicking off an amazing run. Over the past three years, their busy schedule has included 8 Australian tours, 3 European tours, touring the USA and playing SXSW, tours with 65daysofstatic and Karnivool – and unprecedented nominations for an ARIA Award in 2012 and 2014.
So far in 2014, the band has toured with Karnivool & Dead Letter Circus, headlined their biggest Australian tour to date and played a rapturous set at Newtown Festival in their hometown. Their new album 'Love of Cartography' has been nominated for an ARIA Award, a J Award and AIR Award, as well as featuring the triple j playlisted singles 'Something Like Avalanches' and 'Great Northern.' They have also announced their fourth European tour, kicking off in March and April 2015.
With a devoted following around the world for their innovative and expansive music, coupled with an electrifying live show, the future looks bright for this young instrumental quartet.
Official Facebook page: https://www.facebook.com/sleepmakeswaves
Official Website: http://www.sleepmakeswaves.com/

Official Bandcamp: http://sleepmakeswaves.bandcamp.com/